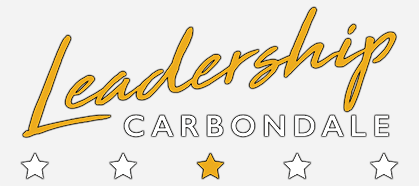 Led by the Chamber of Commerce, Leadership Carbondale is a program formed to build strong leaders and prepare them for leadership roles in the community. Participants will gather valuable knowledge and resources through a training curriculum designed to teach how to be better leaders, network with other leaders and professionals, and learn more about the community of Carbondale.
PURPOSES:
To create alignment with the purpose of evoking positive actions from others and encourage the ongoing development of your capacities
To provide a deeper understanding of the Carbondale Community, and to learn from Leadership Carbondale Alumni
To thoroughly understand the seven capacities of Positive Leadership:
Authenticity
Purpose
Advocacy
Resilience
Community Building
Reason
Gratitude
This class meets one full day per month, typically the last Friday of the month for an eight-month period beginning in April.
The cost of the class is $500, some scholarships may be available. Material fees may still apply for scholarship recipients.
Congratulations to the Class of 2023:
Fern Martin, Banking Center Manager, Banterra Bank
Marshall Braxton Hunt, Assistant Principal and Athletic Director, Carbondale Middle School
Friday Ebersohl, CEO, Alter Ego Marketing
Angela Kay Foster, Clinical Informatics Pharmacist Southern Illinois Healthcare, 
Vanessa Sneed, Director of Business Innovation and Research, SIU Office of Innovation and Economic Development
Stephanie Mueller, Southern Illinois University, Experiential Education Coordinator
Natalie Seeden, First Mid Bank & Trust, Branch Manager
Megan Fleming, Program Manager Jackson County Health Department
David R. Hughes, Associate Attorney, Barrett, Twomey, Broom, Hughes & Hoke, LLP
Niki Hoesman, Recreation Superintendent, Carbondale Park District
Nancy Skovgaard, Web Strategist, Southern Illinois University -Carbondale